Roadmapping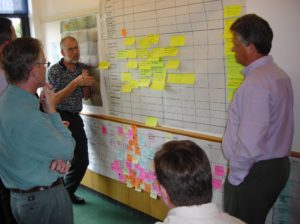 Roadmapping is a powerful technique for planning an organisation's technological capabilities to ensure they meet its commercial or strategic goals.
The concept provides a metaphorical image of a roadmap being used to navigate a business through partly known/unknown territories.
---
Theme editors:

  Sven Schimpf is a researcher and consultant at the Fraunhofer IAO / IAT Universität Stuttgart Competence Center.

  Clare Farrukh is Senior Research Associate of Technology Management at IfM.

  Rob Phaal is Principal Research Associate for the Department of Engineering at University of Cambridge.
Theme Editor blog
Latest news
Case studies

Predicting the future is something that all companies find hard, especially part of that future could involve radical change. Nonetheless, companies are constantly expected to make the right bets on their technology portfolio, identifying future innovations that will make their products and services not only competitive but winners in a global marketplace. Often, the executive dialogue required in order to make these choices stalls, principally because there is no mechanism to create a bridge between 'commercial strategic intent' and what might be possible technically both in the near future and the longer term. How can forward-looking companies make the right investment choices?... more»
Funding
The RADMA 2018 Doctoral Studies Programme is open. The closing date is 28 February 2018.... more»
RADMA has issued an open call for proposals under its Postgraduate Project Support Programme. The award provides support to talented mid-study Masters and PhD students. Funding is for expenses directly related to their postgraduate research in the field of R&D management. Up to £500 is available for Masters and £1000 for PhD projects.... more»
Events
02/07/2018 12:00 am
The R&D Management Conference 2018 will provide a forum for new ideas and thinking on how to adapt management approaches to enable innovation in the modern, transformed environment.... more»
Papers
Some organizations are more sensitive than others to changes to the technology roadmap, this knowledge should be used to inform the TRM status signal.... more»
Researchers in Brazil have developed a framework to support a quick and visual assessment of roadmapping performance using its core result – the roadmap.... more»
The main benefit of technology roadmapping is that it provides information to make better technology investment decisions.... more»
Game changing technology creates a challenge for any industry, but particularly for the hydraulic power generation business, which has traditionally progressed through continuous innovation.... more»
The visual design of technology roadmaps greatly enhances their value as communication aids but this is being overlooked.... more»

As technologies develop and markets evolve firms are being forced to consider radical new ways of doing business if they are to remain competitive. Developing a new business model is extremely complex and challenging as the changes made will inevitably affect every part of the firm.... more»
Resources
In a recent study among industrial companies that continuously apply the Roadmapping methodology, only 15 per cent were using specific Roadmapping software, while less than a quarter were using Roadmapping for the planning of production technologies. This suggests there is considerable scope for companies to benefit from more effective use of this powerful technique.... more»
Tools
Content is the essence of roadmapping. But the impact of impressive, professional visuals that attract interest in their own right can often be overlooked.... more»
Frugal innovation allows a company with a quality product to compete effectively with cheaper manufacturers as it makes a better product more affordable. To help organisations assess their potential Fraunhofer IAO has developed a Frugal Innovation Index. This uses a simple questionnaire to measure, assess and increase the capability of organisations to be frugally innovative.... more»
TRIZ (the theory of inventive problem solving) provides a logical approach to developing creativity for innovation and inventive problem solving.... more»