Professor Welsch says non-invasive beam profiler has applications for industry and medicine
Technologies being developed as part of the recently announced £26M upgrade for the Large Hadron Collider* will help improve the performance of medical and industrial accelerators, comments Professor Carsten Welsch, Head of the Department of Physics at the University of Liverpool and a senior academic at the Cockcroft Institute. His team is leading the development of a non-invasive beam profiler for the upgrade that would also increase the precision of radiotherapy.
"Many of the particles, such as the Higgs boson, being created by the Large Hadron Collider (LHC) are very rare. To increase the availability of these particle beams the LHC is being upgraded to increase its luminosity (rate of collisions) by a factor of ten. This will improve its discovery potential," Professor Welsch explains. "Equipment designed to achieve this ambition will also overcome the limitations of existing technologies such as those used for characterising the beams used in proton-beam cancer therapy."
Innovative gas jet profiler has applications across medicine and industry
The High Luminosity (HL)-LHC upgrade has created a number of challenges and this is a perfect driver for innovation in for example:
super conducting magnets for improved beam control,
new types of cavities for beam rotation
improved diagnostics for monitoring and controlling the beams.
Many of these are being delivered by UK universities and will require high-tech components commissioned from industry.
One of the projects is led by researchers from the University of Liverpool and targets the development of a supersonic gas jet beam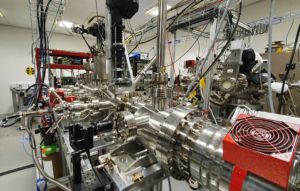 profiler. With increased luminosity in the LHC, the beams become too powerful and beam instrumentation currently used will no longer work. This requires entirely new approaches to fully characterise the HL-LHC beams.
The gas jet profiler creates a thin screen of electrically neutral particles. This jet then crosses the primary beam in the HL-LHC, resulting in excitation of the particles in the jet and the emission of light. This light can then be detected and used for 2-dimensional imaging of the beam.
The non-interceptive gas jet beam profiler being developed by Professor Welsch's QUASAR Group is flexible and scalable, enabling its use across a range of accelerators, and is not restricted to high energy storage rings such as the HL-LHC. It can measure the detailed properties of essentially any beam of charged particles in just a few seconds.
Discovery science drives innovation 
Professor Welsch believes this development that initially targets discovery science has excellent potential to translate into medical and industrial applications.
For example, linear accelerators (LINACs) are widely used for radiation therapy. They generate energy x-rays or electron beams to conform to a tumour's shape and destroy cancer cells while sparing normal tissue. In a very similar way, protons and heavy ions are also used for cancer treatment.
Therapy requires a team including a radiation oncologist to prescribe the appropriate treatment volume and dosage, a medical physicist and dosimetrist to determine how to deliver the prescribed dose and calculate the amount of time it will take the accelerator to deliver that dose, and a radiation therapist and machine expert to operate an accelerator to give patients the required radiation treatment.
Professor Welsch comments that the gas jet profiler would be "highly desirable for non-invasive beam profiling for medical LINACs. It would give access to continuous machine operation and reduce the time required for accelerator set-up and calibration. We could monitor the treatment beam without affecting it".
The HL-LHC-UK2 project was announced on 11th September 2020 by the Science and Technology Facilities Council (STFC) and is a collaboration between CERN, the Cockcroft Institute, the John Adams Institute, STFC and eight universities.
*Phase Two of UK project to upgrade the Large Hadron Collider now underway (11 September 2020) STFC
Non-invasive beam profile monitor for medical accelerators – N. Kumara, CP Welsch et al. Physica Medica 73 (2020) 173-178.