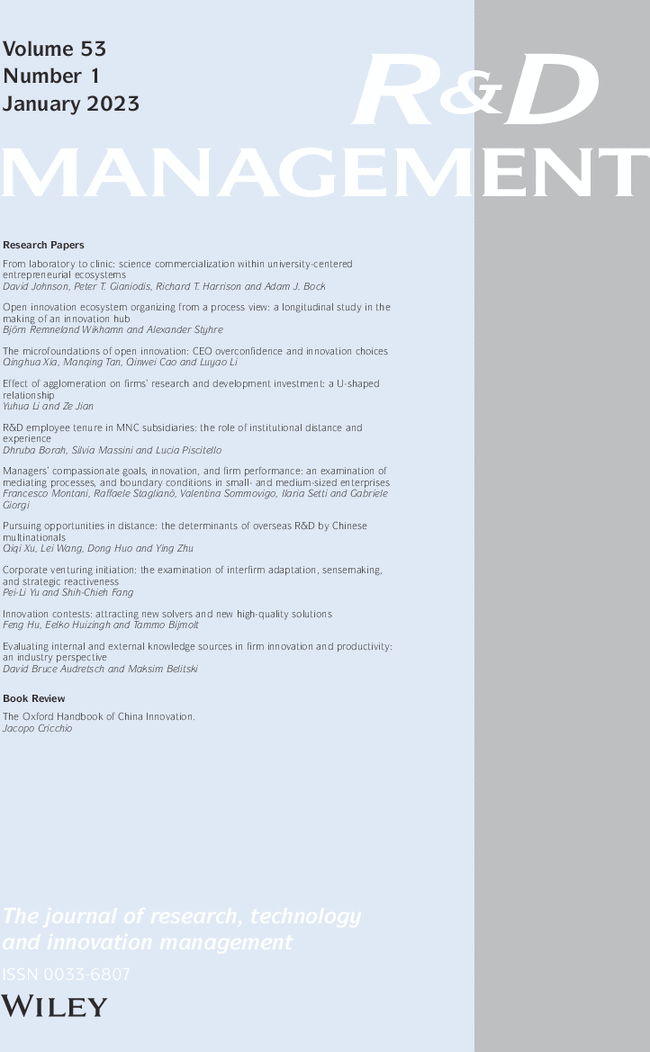 R&D Management publishes articles which address the interests of both practising managers and academic researchers in R&D and innovation management. Covering the full range of topics in research, development, design and innovation, and related strategic and human resource issues – from exploratory science to commercial exploitation – articles also examine social, economic and environmental implications.
RADMA along with WileyBlackwell is proprietor of the R&D Management Journal – the journal of research, technology and innovation management. ISSN 0033-6807. The R&D Management Journal is published in five issues per year.
For more information or to submit a paper please visit the Journal's website by clicking here.
Scope of publication
Traditionally, R&D management has been concerned with the choice of project and resourcing the research, but increasingly the scope has been extended to examine other ways of developing and acquiring technology. This has involved forming partnerships and alliances, with other organisations and academic institutions.
RADMA aims to support the development of this discipline which encompasses a number of key themes:
Ideas screening
Intellectual Property development and management
Time to market improvement
Technology transfer
Project selection
Project management
Environmental scanning
Open innovation
Systematic process development
Encouraging involvement of all functions
Overlapping and parallel working
Appropriate management structures
Cross functional team working
Emphasis on learning and development
Early supplier involvement
Involvement of leading edge users in product development
Flatter, more flexible organisation structures
Development of internal databases
Effective external data links
RADMA is keen to develop best practice in these areas by sharing academic insights and practitioners experience.
R&D Management Editorial board
Co-Editors-in-Chief
Prof. Alberto Di Minin, Scuola Superiore Sant'Anna
Prof. Paavo Ritala, LUT University
Associate Editors
Prof. Joon Mo Ahn, Korea University
Dr Paul Chiambaretto, Montpellier Business School
Dr Lawrence Dooley, University College Cork
Prof. Xiaolan Fu, University of Oxford
Dr. Letizia Mortara, University of Cambridge
Prof. Andrea Piccaluga, Scuola Superiore Sant'Anna
Dr. Krithika Randhawa, University of Sydney
Book Review Editor
Irina Saur-Amaral, University of Aveiro
50th Anniversary – All Time Top 10 Cited Articles
 Beyond high tech: early adopters of open innovation in other industries.  Chesbrough, H; Crowther, AK (2006)
 Investigating the not invented here (NIH) syndrome – a look at the performance, tenure and communication patterns of 50 R&D project groups.  Katz, R; Allen, TJ (1982)
Successful industrial innovation – critical factors for the 1990's.  Rothwell, R (1992)
Open R&D and open innovation: exploring the phenomenon.  Enkel, Ellen; Gassmann, Oliver; Chesbrough, Henry (2009)
The future of open innovation.  Gassmann, Oliver; Enkel, Ellen; Chesbrough, Henry (2010)
Opening up the innovation process: towards an agenda.  Gassmann, O (2006)
Challenges of open innovation: the paradox of firm investment in open-source software.  West, Joel; Gallagher, Scott (2006)
Toolkits for idea competitions: a novel method to integrate users in new product development.  Piller, FT; Walcher, D (2006)
The role of technology in the shift towards open innovation: the case of Procter & Gamble.  Dodgson, M; Gann, D; Salter, A (2006)
The "making" of an entrepreneur: testing a model of entrepreneurial intent among engineering students at MIT.  Luthje, C; Franke, N (2003)
Source: WileyBlackwell.