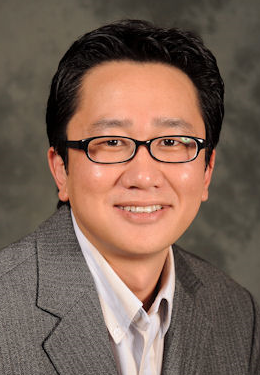 Unlike the majority of studies about Regional Innovation Systems (RIS) which position the roles of the innovation-creating actors as rather static, Professor Yong Kyu Lew's work shows that they have a dynamic influence. 
His paper 'Gravitating toward the quadruple helix' explores a single RIS in Trentino in Italy and shows that the provincial‐level government policy is important in supporting the innovation activities of regional research institutions and firms.
We asked Professor Lew about his research that extends the existing RIS and Triple Helix research to an international dimension.
Please describe one of the findings of your paper that was of particular interest to you
In this paper, my co-authors and I attempt to take an integrative approach by exploring the role of international connections in the enhancement of a regional innovation system (RIS). The paper theoretically draws on the Triple Helix as a conceptual model to examine the roles of the regional government, academic/research institutions, and firms, in the regional context of Trentino in Italy. This approach guides us toward an understanding of how these RIS actors' activities relate to each other and the wider international context. By doing so, the study identifies a dynamic RIS nature and a shift toward Quadruple Helix aspects for exploring dynamic regional-international connections for the co-creation of innovation in a RIS.
International connections as a complement to the Triple Helix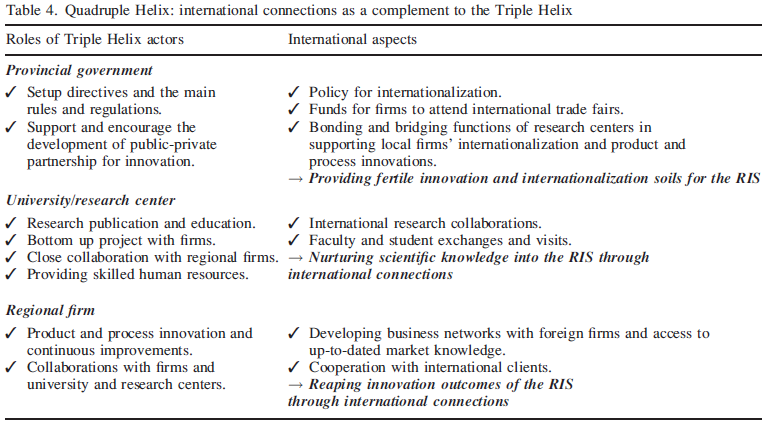 As shown in the table above, the Trentino RIS case demonstrates that international connections are an important part of a RIS, enabling the region to overcome territorial limitations and to increase its prestige and success, especially in the current globalised economic system. This could point the way toward the dynamic evolution of RISs into trans-regional and trans-national innovation systems.
What learning points does your work offer others working in R&D management?
To hasten the development of the understanding of RIS and Triple-Helix, this paper provides some useful R&D implications to policy makers.
International outlook is vital

One implication for regional governments is the importance of international linkages among all institutions within a RIS, meaning that regional firms should be informed about the importance of engaging in a certain level of international business and research activities.

A regional/local mentality limits the potential of good ideas. 

Innovation is crucial for the competitive advantage of a region, and it can draw advantages from international linkages.

Financial resources alone cannot create a competitive RIS environment.

  Finance should be accompanied with a regional culture and mindset that is open to the international arena. Also, policy makers should be aware that increasing the interaction at a research/academic institution level, and providing RIS actors with a basic industrial culture, could help to embed into the society basic industrial knowledge and entrepreneurial skills, ultimately affecting in a positive way the innovation of the region.
Looking wider at the field what do you consider to be the 'hot topics' at the moment?
Although there are on-going debates on a clear definition of the fourth industrial revolution, no one can deny that new technologies, such as artificial intelligence, robotics, 3D printing, internet-of-things, chipset computing powered, etc., transform R&D management and innovation landscapes.
These technologies accelerate technological inter-connectedness progressively in the form of technologically converged products, services and platforms.
Also, we are witnessing geographically inter-connected markets at both international, national and regional levels. Indeed, the research topics on the development of innovative capacity in a region (e.g., developing smart innovation ecosystems and RIS in the era of the industrial fourth revolution) can encompass an interesting and relevant research avenue.
If you were talking to a newcomer to your field of work what would you recommend they read for background (ie any key papers/books)?
Broadly, my research interests are international business and innovation and their interactions, which deal with organisational 'growth' and 'survival' issues. In the competitive industry and global market environments, innovation and internationalisation allow particularly emerging economy firms and small and medium-sized firms to overcome their liabilities of emergingness and smallness.
To a newcomer to these fields, I would like to recommend the following two articles as a stepping-stone to this impactful field of research:
– Cooke, P., Uranga, M.G. and Etxebarria, G., 1997. Regional innovation systems: Institutional and organisational dimensions. Research Policy, 26(4-5), 475-491.
– Ramamurti, R. and Singh, J.V., 2009. Emerging multinationals in emerging markets. Cambridge University Press.
Yong Kyu Lew is Professor of International Business at Hankuk University of Foreign Studies, Seoul, South Korea. He completed his PhD at Manchester Business School of the University of Manchester, UK. Previously, he held faculty positions at the University of Hull and the University of Manchester in the UK. His research interests include global strategy and economic & social consequences of innovations.
Read the paper here: Gravitating toward the quadruple helix: International connections for the enhancement of a regional innovation system in Northeast Italy