The rags to riches story of Cinderella may just seem like a children's fairy tale, but actually it is witty joke about innovation, according to Genevieve Warwick, Professor of the History of Art at the University of Edinburgh.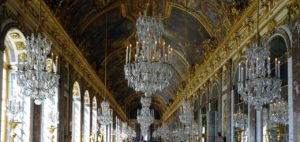 She explains in an article by Donna Ferguson in the The Observer newspaper that Cinderella was written by Charles Perrault and was intended to be a "literary mascot of French economic modernity".
The rise of the glass industry
Perrault's secretary was tasked with fitting out the grand palaces of Louis XIV, including the Hall of Mirrors at the Palace of Versailles.
Glass was a highly fashionable, ultra-expensive luxury and Perrault was charged with setting up a royal glassworks for France. This ensured that the glass could be made in France, instead of imported from Venice, and manufactured from sand, ash and wood – the products that gave the humble girl her name.
The story is therefore an allegory that links the rise of a girl that sweeps up cinders to a magnificent woman, resplendent in her 'glass slippers' with the success of the French glass manufacturing industry.
Warwick argues in the article that Perrault was making Cinderella into a national emblem of how France would become prosperous with the potential of this new innovation.
Ensuring sustainability beyond midnight
Keeping up with fashion was very important, and French nobility could be fined if they were not supporting textiles made in France. The glass slipper was the ultimate fashion accessory – it was totally unsuitable for dancing or walking!
The glass slipper neatly encapsulates both passions of the King: his love of fashion and the Hall of Mirrors.
Read more about Cinderella's Glass Slipper: Towards a Cultural History of Renaissance Materialities,
More about Genevieve Warwick.