I've had a couple of conversations recently along the lines of: 'I don't hear so much about 'Open Innovation' these days – is it running out of steam / past its sell-by-date?', which started me thinking about two related questions: 'How relevant is collaboration in innovation, now and going forwards?' and 'does the brand 'Open Innovation' still serve any value?'
How relevant is collaboration?
Looking first at the role of collaboration in innovation, it seems clear that key mega-trends are pointing towards more rather than less collaboration:
Globalisation: To quote Bill Joy of Sun Microsystems  "No matter who you are, most of the smartest people work for someone else"; and with increasing globalisation the potential extent of the accessible talent pool that 'doesn't work for you' is growing all the time.
Connectivity: Meanwhile, the ease and feasibility of identifying, connecting to and collaborating with this global talent advances exponentially along a Moore's Law trajectory, driven by ubiquitous communications and social media.
Complexity: Alexander Graham Bell's first telephone was protected by a single patent whereas Apple alone have over 200 in the iPhone not to mention the hundreds more owned by its suppliers. Whilst one inventor could grapple with the whole technology scope required to achieve: 'Watson, come here! I want to see you!' it takes many thousands to answer 'Hello Siri, what time is it?'
Uncertainty and rate of change: Recent political events worldwide speak to the high levels of uncertainty in today's world, whilst product life-cycles plummet and the innovation clock ticks ever faster. In this environment an adaptable flotilla of speedboat collaborators will easily outmanoeuvre a corporate battleship.
It seems clear, therefore, that the move towards more collaborative, open models of innovation has real substance and durability.
Adoption of these approaches was no doubt accelerated by Henry Chesbrough's coining of the 'brand' Open Innovation in 2003, but would surely have happened anyway (and arguably had been happening for decades before that).
Since then OI has followed the classic Hype Cycle  through the Peak of Inflated Expectations, followed in some instances by the Trough of Disillusionment and moving towards the Slope of Enlightenment. This cycle has progressed through different sectors at different speeds, determined in part by the degree to which the above mega-trends pertain and influenced by some leading adopters. (see diagram full credit to Jeremy Kemp)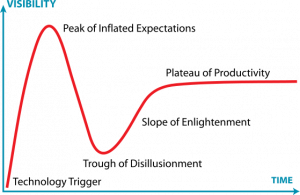 In the FMCG sector, for example, the goal set by P&G's CEO Alan Lafley to acquire 50% of innovations outside the company clearly set the ball rolling.
I would suggest we are now moving towards a level of maturity on the Plateau of Productivity.
Becoming so fundamental 
I would liken the journey of OI adoption to that of Total Quality Management (TQM) in the late 80s and early 90s. A platform of robust and powerful tools and approaches, many of which had been unheralded best practice for many years previously, were understood and deployed amidst much hype (and many conferences!).
We don't hear a lot about TQM today, not because it isn't important but because it is so fundamental that it has been subsumed into business as usual. In a real Darwinian sense, most of the organisations that don't practice TQM simply aren't around anymore. Open Innovation is a decade or two behind that curve, but very much heading in the same direction, I'd suggest.
Value of the OI brand?
Which brings me back to my second question: 'Does the brand 'Open Innovation' still serve any value?
It is clear that operating in a more collaborative, open style requires very different (or at least additional) approaches from a traditional in-company 'closed' model; not least in the areas of skills, procedures, culture and metrics. [see 'How to Implement OI: Mortara et al]
Whilst these approaches are being developed, refined and disseminated it is helpful to have a banner under which practitioners can unite to share best practice. OI provides such a rallying point (although personally I'd perhaps prefer Collaborative Innovation as being both less ambiguous and less closely associated with a single originator).
I'd like to imagine that the 'Open' will gradually fade over the next decade and we'll revert to simply talking about 'Innovation', much as we now talk about 'Management' and the TQ goes unsaid whilst pervading every successful business.
Post by Dominic Oughton