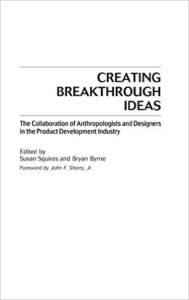 As ethnographic research becomes increasingly central to the creation of new products, services and marketing strategies for both home and global markets, anthropologists and other social scientists are in demand by R&D firms.
Written by social scientists, designers, and entrepreneurs who create new products and services, this book suggests ways emerging design professionals can improve performance, change the working processes of the industry itself, contribute to basic ethnographic research and craft training programs for the next generation of professionals.
Case examples are provided of working practices and the emerging methodology is discussed based on three fundamental kinds of projects (discovery, design and evaluation).
Read the full book:
Creating Breakthrough Ideas: The Collaboration of Anthropologists and Designers in the Product Development, Susan Squires, Bryan Byrne (Editors), Praeger, 2002
Recommended by Rick Mitchell, post by R&D Today admin