Could chatbots be used to elicit customer experience insights?  RADMA sponsored PhD student Karim Sidaoui and colleagues at the Alliance Manchester Business School reviewed how AI could be used to combine the deep insights gained from interviews with the objectivity of quantitative analysis. The findings were published in a paper "AI feel you: customer experience assessment via chatbot interviews", in the Journal of Service Management.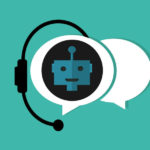 Listen to the podcast at https://play.acast.com/s/cx-management-bi/e9-chatbots.
Storytelling is a powerful way to capture the customer experience, but interviews are time-consuming and resource intensive. There would therefore be considerable benefit in an approach that is both highly informative and efficient.
Customer experience has been defined by five elements – thought, feeling, sensation, activity and relation. It is considered that by focussing on the 'feeling' element, chatbots equipped with artificial intelligence could engage with customers and extract insights from conversations using sentiment analysis.
It is known that chatbots can reap the benefits of both surveys and interviews. They already interact with customers in various service sectors such as banking and insurance and provide a cost- effective solution targeting a broad customer base independent of time and location.
By enabling the chatbot to proactively ask inquisitive questions, it can switch role from 'information giver' to be become an interviewer.
Additionally, chatbots can handle multi-format data such as text, video and can be customised to the interviewee.
Chatbots show promise for capturing feelings
The study developed and validated a novel and cost-effective approach to gaining an improved holistic understanding of customer experience, with three desired outcomes.
– Develop a granular and semantically clear customer experience feeling model (CEFM) that is employable using AI techniques. The researchers succeed in developing such a model with three complementary sub-elements – mood, emotion and hedonic (motivation relating to feelings of pleasure or discomfort) value. This enables the findings to be in a wider context.
– Propose a unique approach that utilizes chatbots and sentiment analysis to extract customer experience defined as 'feelings' from primary interview data. The approach offers the benefit of being able to collect data from large samples quickly without the disadvantages of traditional interviews e.g. high costs and lack of scalability and of survey approaches e.g. lack of engagement, limited depth of data and poor response rates.
– Empirically validate the effectiveness of this approach in extracting customer experience feelings. The sentiment analysis algorithm used (VADER) was found to be able to extract the sentiments adequately, particularly for mood and emotion, although it struggled slightly with hedonic values. This might be as they are related to outcomes – 'how did you feel after the service encounter' – as opposed to an explicit feeling.
The project showed that chatbots have considerable potential for eliciting and evaluating customer experience and this could be further enhanced by more sophisticated models that would offer a more conversational experience.
Read the full paper:

"AI feel you: customer experience assessment via chatbot interviews".  Karim Sidaoui, Matti Jaakkola and Jamie Burton Alliance Manchester Business School, University of Manchester, Manchester, UK Journal of Service Management (June 2020) 1757-5818 DOI 10.1108/JOSM-11-2019-034
https://www.emerald.com/insight/content/doi/10.1108/JOSM-11-2019-0341/full/html