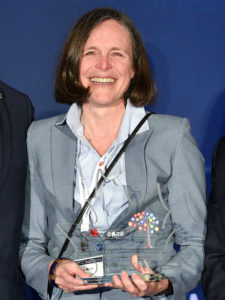 The advancement of science requires vision, leadership and creativity – attributes that have gained Dr. Elicia Maine, Associate Vice-President for Knowledge Mobilization and Innovation at Simon Fraser University, the Canadian Science Policy Centre (CSPC) "Trailblazer Award for Innovation Policy".
The honour was awarded to Elicia for her work on the i2I program, which was tailor-made to mobilise university research, education and technology commercialisation, and develop an entrepreneurial mindset in graduate scientists and engineers.
A spokesperson for the CSPC observed that Dr. Maine recognised the key gaps in the Canadian science innovation ecosystem. "She identified that Canadian STEM researchers were being underutilised, Canadian science breakthroughs were underdeveloped and that scientists needed additional support to translate discoveries into value-creating products and companies.
"The i2I program nurtures a pipeline of talent within the wider Canadian innovation ecosystem and is recognised globally because of its distinct approach to unleashing the innovation potential of STEM researchers."
The Trailblazer award recognizes individuals who have demonstrated impact through leadership and commitment to the overall advancement of the science and innovation policy ecosystem. A good example of this was the decision that Elicia and her colleagues, including Elicia's co-chair Dr Sarah Lubik, made back in 2020 to take the R&D Management Symposium online.
With months of the global pandemic being declared the organising committee announced that it had decided to move the symposium to a virtual format. Elicia said at the time: "We have had some exciting contributions and are looking forward to a vibrant event.
"The format will be designed to encourage interactive discussion and feedback in the sessions and a further piece of good news is that the registration fee will be waived, enabling more people to participate."
The event was a great success and showed the potential for using technology in new ways to support communications.
More about the Canadian Science Policy Centre
More about Dr Elicia Maine