Choosing the best conference papers from the R&D Management Symposium was a difficult job says Dr Lawrence Dooley, University of Cork, one of the judging panel that also included Prof Ellen Enkel University of Duisberg, Essen, Dr Letizia Mortara, University of Cambridge and Prof Paavo Ritala.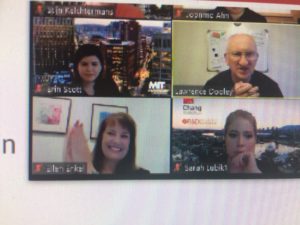 Best Conference Paper 
Many are called, few are chosen: The role of science in drug development decisions: Relinde Colen, Rene Belderbos, Stijn Kelchtermans, Bart Leten.  Reviewed 140 biotech to explore the role of blue sky and applied research and its contribution to drug development.
Happily ever after?: The longitudinal impact of government R&D subsidy on innovative small firms: Joon Mo Ahn and Taejung Kim. This paper took a novel approach to the impact of government support for R&D in Korea, looking not just at inputs and outputs but also on the effect on human behaviour.
Choosing Technology: An entrepreneurial strategy approach: Joshua Gans, Michael Keraney, Erin L Scott, Scott Stern. This paper questioned the S-curve as a driver for innovation and looked instead at the choices made by the entrepreneurs.
After much debate, as they were all excellent, the judges selected 'Choosing Technology' and Erin Scott (top left) accepted the award for the team.
Best PhD Paper 
To reveal or not to reveal? Open innovation mechanisms within an emerging personalised medicine innovation ecosystem: Andrew Park (with Elicia Maine). Andrew investigated the conditions under which Open Innovation would be helpful in technology commercialization for Personalized Medicine firms.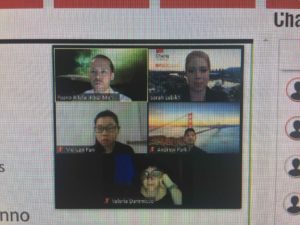 Tie strength or structural configurations? The network effect of innovation diffusion of emerging technologies from network evolution perspective. Meijuan Pan (with Yuan Zhou and Guannan Xu). Meijuan took a very thorough investigation of network evolution in AI and explore the differences through two main criteria high strength and structural configuration.
The emergent process of entrepreneurial innovation at the intersection between product development and venture creation: evidence from Fabrication Spaces: Valeria Dammicco (with Letizia Mortara). Valeria tried to answer the questions which comes first product development or venture creation through an evaluation of Fab Spaces.
The judges selected 'Tie Strength or structural configuration' as the winner and Meijuan (in middle on left) gave her thanks.
More information about the symposium.