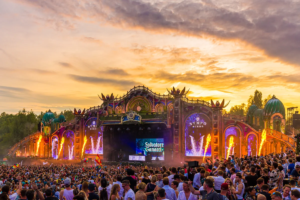 An exclusive range of sunglasses promoted at the 2020 Tomorrowland festival were produced from bottles and cups recycled after use at the 2019 festival and created using 3D printers by Yuma Labs. This is an example of the 'Circular Economy', where goods at the end of their lifecycle become resources for new products. The intersection between digital technologies and the circular economy is the theme for an R&D Management Special Issue.
Paavo Ritala, joint editor of R&D Management, says: "Adopting digital technologies to help the circular economy can potentially lead to enhanced competitiveness, productivity and performance according to some academics.
"For this special issue we are calling for submissions that explain how innovative uses of a variety of digital technologies support the creation of products, services, processes, business models, ecosystems and platforms aligned with CE principles."
The Special Issue highlights four digital technologies with particular significance to CE:

3D printing – although significant barriers exist for designing new products with recycled plastic, production of the Tomorrowland sunglasses required hand-sorting of plastic; there is an opportunity for economically viable small-scale production of high value products.
Artificial intelligence (AI) – AI offers the potential for smart inventory management among other applications.
Blockchain – has the potential to build trust in the market by authenticating the flow of materials and ensuring payment to those who collect them.
Internet-of-things (IoT) – by turning equipment into 'smart objects' it enables real time tracking of CE indicators and provides early warning systems.
Paavo comments: "The application of these technologies to CE will vary according to product, process and supply chain and the opportunities may be missed without alignment between organisational and societal goals.
"This special issue calls for papers to understand the potential synergies (and pitfalls) in the intersection of digital technology in different levels of analysis and contexts."
He highlights a good example of where digital technologies are used to provide connectivity across different industries: the Excess Materials Exchange is a digital marketplace that enables companies across different value-chains to exchange excess materials and products.
He continues: "There are many examples that support the concept of 'wealth in waste' and offer a glimpse of a future where a world without waste is possible.
"This Special Issue will provide a unique opportunity for scholars in R&D Management to play a critical role in shaping the discourse around CE, digital technologies, and innovation, and I am looking forward to seeing some thought-provoking contributions."
More information about the call for papers 
"Circular economy and digital technology enabled innovation: Advances, applications, and prospects" 
Call opens 1st January 2023
Submission of manuscripts ends 28th February 2023
More about the calls for papers issued by R&D Management.