The collaborative industrial-academic development of management toolkits is still a novel concept, writes Clare Farrukh. She introduces a paper that discusses the potential of these tools. 
Key principles for developing industrially relevant strategic technology management toolkits Kerr, Farrukh, Phaal and Probert, 2013,
When considering the potential uptake and utilization of technology management tools by industry, it must be recognized that companies face the difficult challenges of selecting, adopting and integrating individual tools into a toolkit that must be implemented within their current organizational processes and systems.
This situation is compounded by the lack of sound advice on integrating well-founded individual tools into a robust toolkit that has the necessary degree of flexibility such that they can be tailored for application to specific problems faced by individual organizations.
As an initial stepping stone to offering a toolkit with empirically proven utility in commercial engagements with industry, this paper provides a conceptual foundation to the development of toolkits by outlining the underlying philosophical position taken by the Centre for Technology Management at the University of Cambridge.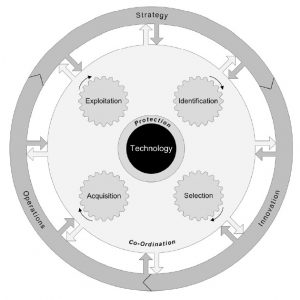 This stance is underpinned by a set of operationalized principles that can offer guidance to organizations when deciding upon the appropriate form, functions and features that should be embodied by any potential toolkit. For example, the principal objective of any tool is to aid decision-making and a core set of powerful, flexible, scaleable and modular tools should be sufficient to allow users to generate, explore, shape and implement possible solutions across a wide array of strategic issues.
The preferred mode of engagement is a facilitated workshop with a participatory process that enables multiple perspectives and structures the conversation through visual representations in order to manage the cognitive load in the collaborative environment.
The generic form of the tools should be configurable for the given context and utilized in a lightweight manner based on the premise of 'start small and iterate fast'.
In conclusion
This paper shows how existing methods for strategic technology management can flexibly and effectively be brought together to enhance current company processes in the context of the ISAEP (identification, selection, acquisition, exploitation and protection) a process model has provides a holistic framework technology management.
It focuses on including a wide range of practical considerations more comprehensively and imaginatively into technology management activities to counter any detachment of human impact in technology decision making at company level.
The proposed style of such toolkits, with intuitive templates designed for interactive workshop settings, helps users to reconcile crucial elements of the technology planning agenda and builds upon the management tools and toolkit development principles promoted by previous and subsequent TFSC authors (e,g. Phaal and Mueller, 2009 ; Adagha et al. 2017).
Read the paper: Key principles for developing industrially relevant strategic technology management toolkits, Kerr, Farrukh, Phaal and Probert, 2013, TFSC 80, pp 1050-1070.
Reviewed by Clare Farrukh, senior Research Associate of Technology Management at the Institute for Manufacturing at University of Cambridge.