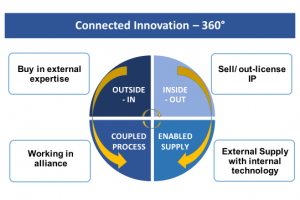 It has long been an observation from the Open Innovation research group at IfM in Cambridge that the 'outbound' aspect of OI is massively under-exploited by businesses. So it was with interest that I read the article by Olaf Gruess, Disruptive Technology Manager & Global Connector at General Mills about a potential 'third way'.
Gruess describes three models of OI and concludes that the out licensing of internal IP to create an "Enabled Supply", is a new Open/ Connected Innovation concept that has not been fully explored or described by any industry to date.
He comments that Enabled Supply can be applied in any industry or corporation. It is a novel approach to creating value and paints a much more complete picture of Open or Connected Innovation. It now truly is "Connected Innovation 360°".
This is an interesting concept and one that merits further discussion.
Click here to read the Olaf Gruess article. 
Post by Dominic Oughton.