Designing a new electric car or developing a new treatment for Covid, the technologies required set the context for innovation and will influence: risk, timescales, research methods, skills requirements, capital intensity, IP strategy, financing requirements and more.
This track on contextual specificity at the R&D Management Conference 2022, explores the interaction between the innovation context – particularly scientific or technological – and R&D management practices.
The track co-chair, Dr Jeremy Klein, chair of RADMA, has curated this theme for two previous conferences, we asked him what he hopes to gain this year.
Themes for track
This year we've got papers in three quite distinct themes: projects; AI and digital and success in different contexts:
Projects
Projects are the cornerstone of how R&D gets conducted but I always think it's surprising that while there is plenty of material on project management techniques, there's much less these days on what actually takes place within a project.
We have four papers looking at different aspects, one is looking at how software projects have changed over time. And another is looking at projects that take place outside of formal R&D settings. All four papers are exploring how the context or subject matter of a project influences how it is conducted, and I think this is an interesting departure from being 'technology agnostic' which is the norm in R&D management.
AI and digital
Then there are some papers developing ideas around AI and digital. The paper that immediately caught my interest was using GANs (Generative adversarial networks) to help with technology roadmapping. GANs are where you have two artificial intelligence programs competing with each other. The potential for GANs' potential for both good and evil is huge, because they can learn to mimic any distribution of data, it is the technology behind deep fake, where a person in an existing image or video is replaced with someone else's likeness.
There's another paper on using machine learning to help value start-up companies in the biopharmaceutical space.
Success in different contexts
Finally, there are some papers broadly on what success looks like in different contexts, and the factors that encourage that success. For example, how public research organisations organise themselves to be successful at open innovation.
Is modelling replacing experimentation?
I think it's interesting that 'trial and error' is gradually being designed out of research. Data science and massive data libraries on the one hand and computer modelling on the other are conspiring to make it faster and cheaper to try things out in computers first.
A good example of this are digital twins. The UK government is trying to encourage the maritime sector to become carbon neutral and when you look at how ports operate – with all their cranes and equipment – digital twins are a brilliant way to imagine new modes of operating.
There are plenty of questions in my mind around who should have access to data. Should a local community have the right to access the digital twin of a facility operating in their midst?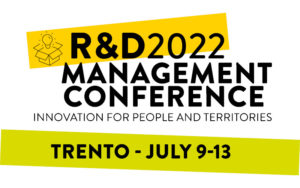 R&D Management Conference 2022 – University of Trento 11-13 July 2022
Track 2.10 Contextual Specificity in R&D Management
Track chairs: Dr Jeremy Klein (Chair of RADMA), Dr Valerie Lynch (Institute For Manufacturing, University of Cambridge, UK).