Jane List, editor-in-chief of World Patent Information, will be talking in the 'Meet the Editor' session of the R&D Management Conference. Her journal, which specialises in intellectual property information and its retrieval, documentation, analysis and management, is planning a special issue on the topic of IP Management based on selected papers presented at the conference.
For this article we asked Jane a series of questions.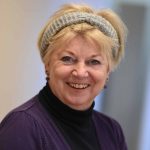 Do you think the pandemic has stimulated new types of innovation or just accelerated the process?
Although it is well known that the pandemic has stimulated digital innovations and digitalisation of many B2C sectors, the pandemic has made conditions harder for those working in manufacturing industries developing 'hard' technologies.
Reduced access to facilities for R&D and scale-up activities, shortages of materials, and reduced on-site working has slowed developments. On the other hand, more information in the form of patent applications and scientific papers have resulted from all that home working!
The lockdown has driven the digitalisation of many consumer services, such as health appointments, and radically changed the dynamics of cities as people work from home – what are the learning points of this social change for business models?
Digitalisation of some healthcare services has started, which has generated some interesting learning points. Personally, I would hope the NHS will improve its digitalisation efforts by developing user-friendly apps, as well as investing in people and places so that it is easier for all to access healthcare services how and when they need to.
For those interacting with the major Intellectual Property Offices, the pandemic has forced the introduction of virtual meetings, e.g. in opposition proceedings at the European Patent Office (EPO). This facilitates wider awareness and improves the capability of third parties to participate, and therefore to learn of outcomes of the Proceedings more rapidly.
Cities will adapt, and I suspect there will be a return to office life. However, business models which relied on a regular and large stream of people commuting into a city are undoubtedly going to have to adapt.
Speaking from your own experience, has anything good come out of the crisis?
I can't think of any positive impacts on a personal level – but then, I already worked from home partially, and have always loved nature and gardening! On the negative side, I haven't been able to see my sister now for over two years, so I hope that those with family overseas will be given the green light to travel internationally very soon.
Professionally, the Cambridge Information and IP Meeting (CIIPM) training courses, previously delivered in person in Cambridge, UK are now all delivered virtually. CIIPM now has a larger potential customer base, and we have already had attendees from the USA and India! We are hoping to organise the 6th Meeting as a hybrid (in person with virtual option) meeting in December.