As society and industry grapple with unprecedented transformative change and disruption, roadmapping for strategic planning provides a useful approach, a recent study has found.
Roadmapping is a process for structuring and visualizing change in complex innovation systems. It enables the classification and alignment of different organizational and planning areas in terms of time. By making the interfaces visible, roadmapping enables integrated strategic plans to be presented in a structured visual form, which reduces the information asymmetries and improves communication.
The Franuhofer Group in collaboration with IfM, MIT and TIM Consulting have conducted a field study, How are roadmaps applied in the real world?, reviewing the way that roadmapping is used as a strategic planning instrument in 2023.
The study compared its findings with an earlier project from 2015 to see how the use of roadmapping has evolved.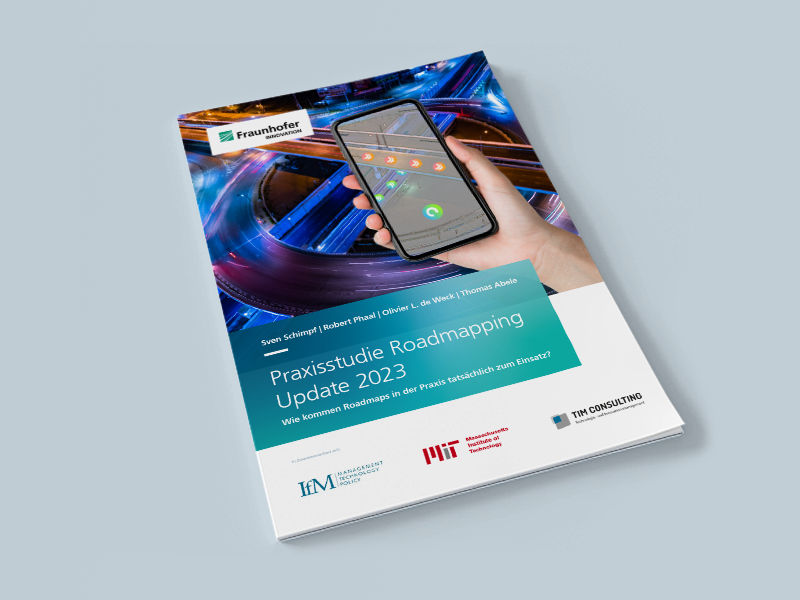 Time horizon of only five years
Of the companies using roadmapping in 2023, all of the smaller organisations were using it as a tool for strategic planning, compared to nearly 70% of the companies with over 2000 employees. However, two thirds of the organisations used a time horizon of less than five years with roadmaps updated annually. Only 11% of companies were looking at horizons beyond ten years.
Additionally, although market analysis was considered the most important source of external information, followed by customer input and that of research organisations, the marketing and sales roles in the organisations did not have an active role in shaping the roadmaps.
Although the tools used for roadmapping are still broadly similar to those used in 2015, with the majority of companies using office software (68.5%), followed by project management software (30.6%) and portfolio management software (20.7%). It was noticeable, that specialist software for product data management, product lifecycle and portfolio management were mentioned significantly more often.
The most frequently mentioned portfolio management software 
The investment portfolio approach of Harry M. Markowitz (Markowitz 1999, 1952),
Technology portfolio management according to Werner Pfeiffer (Pfeiffer et al. 1982)
Product-market portfolio matrices of GE McKinsey (Wind 1975) and the Boston Consulting Group (Henderson 1970)
Fundamentals of roadmaps
Although there are many variations, roadmaps have three main planning perspectives: Time, Product and Technology.
The overarching questions are
a) Where do we want to go? This is the vision and goals for the system – the end state. When uncertainty is high this may include multiple, possible, imaginable, or desirable scenarios.
b) Where are we today? By defining the current state it is possible to articulate the strategic gap or challenge being faced.
c) How can we get there? These are the options and pathways that provide a bridge between the current and future system states. Plausible pathways providing a bridge between
the current and future system states.
The primary function is to synthesize the market, product and technology information and to answer six fundamental questions (Phaal and Muller 2009):
Why do we need to act?  Is it in response to environmental or market drivers, policy, or strategy?
Is the focus products, services, or other value adding tangible systems?
How should we do it? For example, technology, capabilities, resources, or other enablers.
Who will be involved with and responsible for the initiative?  With reference to the RACI matrix, categorized as those responsible, accountable, consulted, or informed.
Where will the activity occur? For example, partners, suppliers, existing or new business units.
When should we do it? For example, considering potential changes and developments of markets or technologies.
Roadmapping provides the capability to track activities considering interdependencies throughout planning and execution.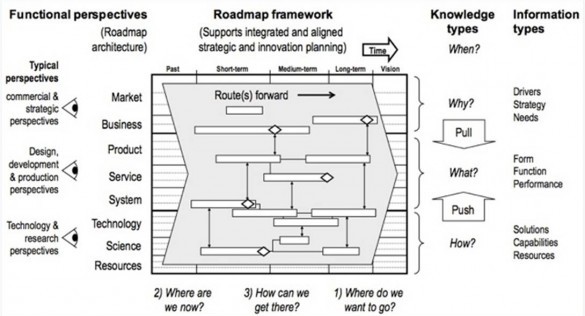 Diagram: The roadmap framework combines different layers of strategic information or viewpoints over a timeline, helping you to determine a way forward. Diagram used here to provide an overview of how roadmapping can provide benefit to organisations. From 'Strategic roadmapping – leading in times of uncertainty' on ifm.eng.cam.ac.uk, supplied to R&D Today by Rob Phaal and Imoh Ilevbare. 
Roadmapping for strategic planning 
The geo-political events of the recent years have disrupted markets and there are also a number of cross cutting themes such as sustainability, digitisation, machine learning and AI that are driving societal change.
Roadmapping offers the possibility to include these topics either as cross-cutting topics, events, or separate levels, and to consider them transparently in a flexible planning process interlinking anticipated and actual developments.
Very few detailed firm-level roadmaps are in the public domain, which is why this study if of value to organisations considering implementing or extending the use of roadmapping.
Co-author Prof. Sven Schimpf, Managing Director of the Fraunhofer Group for Innovation Research, highlights the following: "The study is not intended to represent a specific sector or group of organizations, but rather aims to shine a light on the current status in order to point out approaches for action and improvement regarding the application of roadmapping."
The most frequently mentioned challenge by participants in the study was gaining the commitment of management and stakeholders.
Prof. Schimpf continues: "Roadmapping is an interdisciplinary approach and can be used with a high degree of flexibility — its potential for organizations is therefore huge. However, a high level of commitment from all stakeholders involved is required for it to be applied successfully."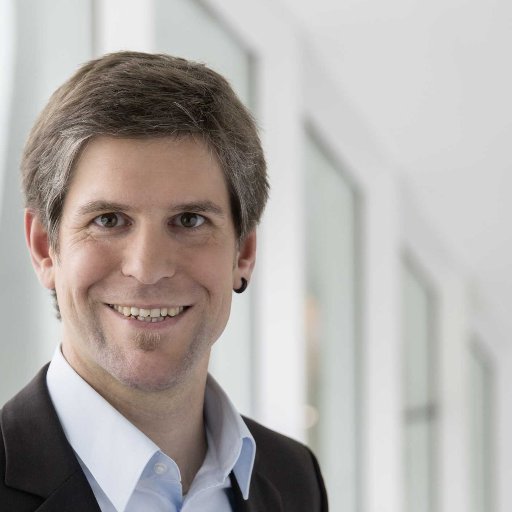 The update: new requirements but not everything has changed
Based on the previous study, the authors defined four areas to form the structure: "application areas and content of roadmaps", "organizational integration", "information sources, methods and tools" and "challenges and best practices".
The most important developments include the detailed consideration of the use of complementary methods and the additional category "information sources, methods and tools" which cover questions on the use of automated data analysis, machine learning and artificial intelligence.
According to the participants, particularly promising methods, structures and processes include the formation of cross-functional roadmapping teams across various planning levels, the close involvement of stakeholders and the regular review and development of the strategy.
With respect to the content of roadmaps, it has been found that the importance of business model development has increased; however, production planning is still only rarely modeled in roadmaps.
The majority of the participants also continue to use office software as their roadmapping tool. At least one quarter of the organizations taking part already uses automated data analysis tools in the context of roadmaps. Having said this, the general level of knowledge regarding roadmapping has only changed slightly within the participating organizations since 2015 — a large proportion of those surveyed stated that their level of knowledge was "low or medium".
Roadmapping Field Study Update 2023. How are roadmaps applied in the real world? – Sven Schimpf, The Fraunhofer Group for Innovation Research; Rob Phaal, Institute for Manufacturing (IfM) Cambridge; Olivier Ladislas de Weck, the Massachusetts Institute of Technology (MIT); Thomas Abele, FOM Hochschule für Oekonomie & Management gGmbH.
The field study discusses the status of the use of roadmapping as a strategic planning instrument in organizations.
Read the updated study on https://doi.org/10.24406/publica-1134.