Technology roadmapping emerged in industry about four decades ago, to support the alignment of technology and product strategy.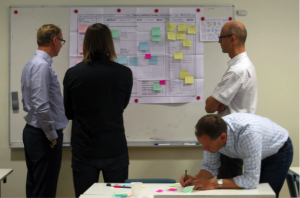 The method has evolved to become more strategic, with application at firm and sector levels to align investments in research, development, infrastructure and other resources with commercial and strategic goals.
As a structured visual approach, roadmapping supports synchronisation of strategy between functions and organisations – e.g. along supply chains and within research collaborations.
Roadmaps enable communication of strategy, as does the process of roadmapping, which brings together relevant stakeholders and aligning perspectives.
Workshops often form part of roadmapping processes, with roadmap-based templates used in group activities to share, capture, organise, prioritise and synthesis knowledge.
Research reported in a recent working paper from the University of Cambridge demonstrates how attention to template design can improve the efficiency and effectiveness of such processes.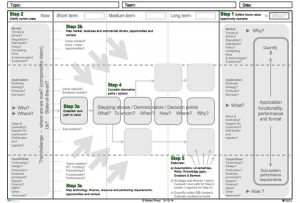 Embedding process cues in the template provides a degree of 'self-facilitation', reducing demands on facilitation support and empowering participants.
Templates were tested with a company in Stockholm, with a view to implementing roadmapping in their 'pulse room', used for innovation programme management.
Lean and agile approaches are increasingly being deployed to support innovation in high tech sectors, both using visual approaches to enhance communication. 'Lean innovation' methods from Scandinavia, with their roots in quality, and 'agile' development methods from software, offer the potential for step-changes in performance.
This is being enabled by advances in hardware and software, from touch screens and devices, to apps and computing infrastructure, combining human- and data-centric processes. Augmented and virtual reality systems may play an increasing role in the future, with the ability to collaborate creatively in a distributed manner in the visual management 'room' of tomorrow.
For related research updates, see cambridgeroadmapping.net
By Rob Phaal