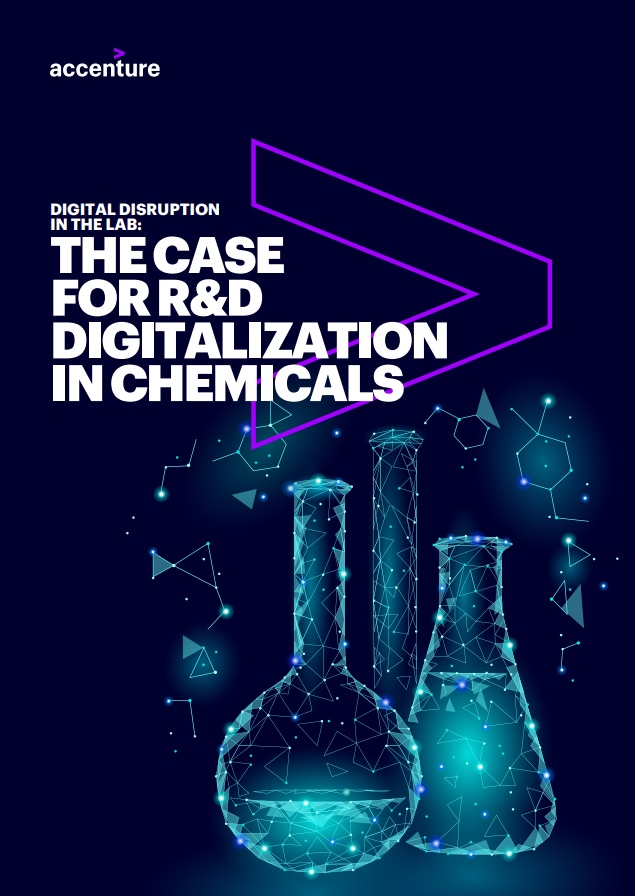 Chatbots have evolved to answer questions and may now offer new ways to communicate knowledge within a lab, according to a recent paper by Accenture.  Steve Bone considers this new development. 
The Case for R&D Digitalization in Chemicals is a paper produced by Accenture.  It followed the 2015, Digital Transformation Initiative by the UK's DTI, which analysed the impact of digital transformation on six industries (automotive, consumer goods, electricity, healthcare, logistics and media) and on three cross industry topics (digital consumption, digital enterprise and societal implications).
In 2016, the initiative was extended to cover seven additional industries, including Chemistry and Advanced Materials [2015 Digital Transformation Initiative – the World Economic Forum]. This Accenture paper sits alongside these results and focuses on R&D management issues.
The authors argue that as chemical companies generate large amounts of data in R&D, connectivity and analytics are two particularly promising development pathways for good R&D management.
Since 2015,  large technology advancements in AI, make it possible to build cutting-edge data access solutions in R&D systems, apply automation and machine learning for data ingestion, and offer human-centered, intuitive access to the data via virtual agents and chatbots.
The rise of the chatbot
The chatbot is an Artificial Intelligence which conducts a conversation with a human being. Recently, Chatbots have become so popular due to the advancement of technologies and machine learning and this enables a new way of working in the chemical lab.
The paper discusses how against this background,  researchers or portfolio managers have been able to evolve a whole new way of working. For instance, employees might pose questions in natural language to a chatbot that accesses advanced analytics behind the scenes to provide answers within seconds.
Given the rapid advancements in technology and significant potential business case for R&D digitalization I agree this should be a "must-do" for the R&D Manager to investigate.
Higher margin at faster pace
McKinsey also agree with the authors and state "We also see significant opportunities in research and development to create higher-value-added, higher-margin products at a faster pace, in particular in specialty chemicals and crop-protection chemicals" [What are the major opportunities from digital in chemicals, and what must leaders do to capture them? – July 2017, Digital in R&D: The $100 billion opportunity December 2017 McKinsey articles].
The Accenture authors have PhDs in sciences and have clearly been around Chemicals R&D at the coal face.
The paper is practical and some of the insights could be implemented. Accenture also worked with the World Economic Forum and companies like BASF are listening [BASF innovation approach – digitalization in R&D – BASF R&D Roundtable on June 28, 2017].
Post written by Steve Bone.
Read the paper here: Digital disruption in the lab: The case for R&D digitalization in chemicals – Michael Ulbrich, Dr. Vikas Aggarwal and Dr. Eike Eschenröder