Launch of R&D Today community website aims to be 'trip advisor' of best practice.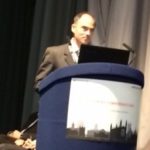 Warren East, chief executive of Rolls-Royce, and Joe de Sousa of AstraZeneca will be among those giving their insights at the R&D Management Conference in Cambridge on 3-5th July. Technology management is so commercially sensitive that R&D managers have few opportunities for professional development, an issue that is to be addressed with a new community web portal to be launched at the conference.
Dr Jeremy Klein is Chairman of the R&D Management Association (RADMA), which supports the conference and sponsors academic research. He says the website (www.RnDToday.co.uk) will address a growing need among R&D managers:
"The R&D landscape is changing, with growing internationalisation of activities and also more outsourcing. R&D managers often don't have the opportunity to learn from the growing body of academic work in this area or from the experiences of R&D managers in other companies or industries. This website aims to share the underlying methods, tools and strategies that have proven successful."
The R&D Management Conference has attracted over 300 papers from academics from across the world. For the first time, it includes a 'management in practice' session with a panel including senior technology managers from Beko, BP, Syngenta and TWI, which aims to give delegates a chance to openly discuss the challenges facing managers in industry.
Conference chairman David Probert, Head of the Centre for Technology Management at the University of Cambridge's Institute for Manufacturing, explains that R&D managers are given very little support for their professional development in this critical role.
"Our research with R&D managers has revealed a number of common themes where more assistance would be welcomed. Creativity, roadmapping, devising technology strategies, managing the R&D pipeline and international teams were mentioned many times as areas of interest.
"We are delighted that Joe de Sousa is one of the experts to take on the position of 'theme editor' on the new website, a role in which academic and industry experts recommend articles, tools and papers that they personally have found of interest. The new website will signpost these resources as a kind of 'trip advisor' for good R&D."
RADMA has also attracted industry practitioners to its board of trustees: Dr Steve Bone of technology and innovation management consultancy nu Angle and Dr Allison Haitz, VP Global Head of Product Development & Applications Consumer Care at Lonza, are among those who have become involved to help knowledge-sharing in the R&D community.
Dr Steve Bone is also a RADMA Trustee and says: "The management of technology as part of R&D Management is a fascinating discipline that is continually evolving. Having access to independent objective experts from academia brings new insights for organisations but these relationships need careful management to ensure they work well for all parties. We see the new outreach website as playing a role in stimulating discussions of best practice and encouraging more open dialogue about the issues facing R&D managers."
The new website R&D Today will be officially launched by Jeremy Klein at the R&D Management Conference 3-5th July at Churchill College, Cambridge.