Combining organisational behaviour research with innovation and technology management to come up with a innovation process based on behavioural basis rather than structure is the aim of Cihat Cengiz, Doctoral Researcher, Centre for Technology Management, Institute for Manufacturing, Department of Engineering, University of Cambridge, supported by RADMA.
2021 update: Cihat has been awarded his PhD and is now a RADMA scholar.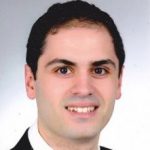 What support did you get from RADMA and how did it help you?
RADMA is supporting my PhD journey by providing me the needed financial support in order to focus on my research.
Please can you outline the topic of your research at the time you received the RADMA support and details of any outputs (presentations, papers)?
My research topic tries to combine organisational behaviour research with innovation and technology management. I am using established methods from  quantitative psychology area in order to come up with a innovation process based on behavioural basis rather than structural basis.
Due to increased maintenance cost in Cambridge, RADMA agreed to top up my maintenance fees for 18/19 and support me fully in 19/20.
The funding spares the time which I would have invested in topping up my fees by working elsewhere or taking up additional supervision work.
An immediate effect of the spared time is a conference contribution to the highly reputable Academy of Management conference in Boston this year.
What was the most interesting thing that you learnt while working in research (some findings or observations)?
The most interesting piece of thing I learned from my 1.5 years of phd research experience is the abstraction of observed (real life) issues and the connection to academic research.
The time as a researcher gave me a lot of virtual tool which gives me the opportunity to observe, abstract and transform it to academically rigorous research.
If someone wanted to learn more about this subject what would you recommend they read?
The book called "Predictably Irrational" from Dan Ariely.
What are you doing now and does this build on your knowledge of R&D Management?
I am currently analysing my quantitative data and confirm my theoretical model of inter-functional citizenship behaviors. This will lead to a general method on how to asses the behavioral issues between two or more departments towards each other. The aim is to positively influence the collaborative R&D process by implementing processes not only on structural basis (Organisational Matrix form, hierarchies, work packages etc.) but also on behavioral issues my research tries to find out.
What do you think RADMA offers the research community?
I am a recent member of the RADMA association as a scholar and didn't have the time to meet and enjoy the benefits of RADMA yet. But the reason why applied for RADMA was the interdisciplinary approach of research they are following.
My research represents that interdisciplinarity and having RADMA as the voice and ambassador for interdisciplinarity helps the research community to appreciate and think about research as a multidisciplinary approach which involves multiple people and skills.