Systems theory is an inspiration for Kevin Reuther, University of the West of Scotland, here he explains how his RADMA scholarship has helped him start his career.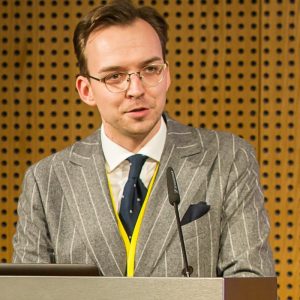 Support from RADMA invaluable
RADMA funds my PHD research with a full scholarship, the RADMA Doctoral Students Award, since 2015 for a period of three years. It enabled me to start a career in the academic world being involved with two Universities jointly supervising my thesis, the University of the West of Scotland (UWS) in the UK and the Westsächsische Hochschule Zwickau (WHZ) in Germany. On this basis, I have furthermore been able to contribute to several EU as well as national and regional research projects.
Interest in corporate entrepreneurship
My general areas of interest are research on innovation processes within large organisations as well as corporate entrepreneurship. My PhD research supported by RADMA is on interconnected influence factors at the front-end stage of innovation processes, using a systems theory perspective to understand the interdependencies of variables at that stage and especially the role that organisational structures play.
I have published parts of my work to the extent that is possible within the framework of a monography thesis at several conferences. I contributed annually to the R&D Management conference, the British Academy of Management Annual Conference as well as the International Conference on International Conference on Engineering, Technology and Innovation organized by IEEE, where I recently won the best research paper presentation award for my contribution "Barriers to Intrapreneurship – The Roles of Systems, Risk and Human Behavior in Developing Innovation". Furthermore, I have served as track chair at the ICE conference and as member of the scientific committee at the International Forum on Knowledge Asset Dynamics.
Interdependencies are crucial 
It is hard to answer questions on superlatives, especially as I find my whole work and the work of my friends or colleagues extremely interesting. One particular thing that fascinates me, however, is the level of interconnectedness within our research fields and amongst them. There are many ways to explore the interdependencies of influence factors on a phenomenon that you want to study, I personally like the lens of systems theory, probably as it offers something like 'comprehensiveness' in a manageable and understandable way.
Must read 
When it comes to learning something about a subject, I am a fan of the classics. If you have never heard a thing about systems theory, I recommend Niklas Luhmann's 'Introduction to Systems Theory' that is based on the transcripts of a series of lectures he gave and therefore a fairly easy read -at least fairly easy for the subject of systems theory. If you are more interested in specific approaches to understand interdependencies in complex systems, I suggest Frederic Vester's "The Art of interconnected thinking". And if you would like to see how this can be used in innovation research, I suggest to wait for some publications I am working on myself at the very moment.
An exciting chapter 
At the moment, I am working primarily on completing my thesis and finishing this truly exciting chapter in my life. Of course, I am still involved in some other research activities with my Universities in Scotland and Germany and I occasionally lecture on innovation management and research methods. I also volunteer as Executive Director of the new Continental Network of the British Academy of Management, where we aim to maintain excellent relationships of UK scholars with colleagues in continental Europe and also aspire to get academics in touch with experienced practitioners to learn from each other.
RADMA makes a difference
RADMA has helped me to start my journey in academia and continuously supported me through the scholarship to do my PhD in an international setting, being able to learn from two different research cultures, being able to travel to conferences and to get feedback from the community at the R&D Management Conference.
I think that RADMA makes a great difference to peoples' life, especially by supporting those who just start engaging with the research community, but also for experienced colleagues. The R&D Management Conference, R&D Today as well as the R&D Management Journal add a lot of value to the research community.