What type of scientist are you – analogue, digital or hybrid scientist? Research by Abderrahim Nekkache revealed how chemists and biologists reassessed their work – and their professional identities – when they adopted cutting edge digital tools in their work.
Abderrahim was supported with funding from RADMA and we asked him about his work and how being a RADMA scholar helped him.
What support did you get from RADMA and how did it help you?
The funding I received from RADMA significantly enhanced my PhD experience. It helped me cover key costs associated with my fieldwork research, such as travelling to the organisation in which my research was based to collect data, travelling to academic conferences to present my research papers, and purchasing qualitative data analysis software to analyse my data thoroughly and efficiently.
Without RADMA funding I would have struggled to cover these costs.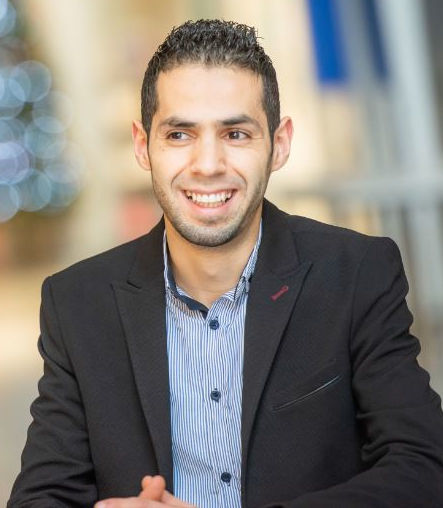 Impact of digitisation on professionals in science 
My PhD thesis investigated the challenges and opportunities of digitalisation for scientific professionals working in industrial research and development (R&D).
It specifically examined the relationship between digital transformation and the professional identity of industrial R&D scientists, shedding light on how scientists such as chemists and biologists reassessed and reconstructed their professional identities in response to the digitalisation of their work.
My research setting was based on a single qualitative case study within a large R&D-based UK firm. The top management decided to digitally transform the firm's R&D environment and activities by driving the adoption of cutting-edge digital tools among scientists, such as advanced laboratory robots, virtual experimentation tools, and big data analytics software.
During my PhD programme, I had the chance to present my PhD research papers at renowned international conferences, including the R&D Management Conference, the European Group for Organizational Studies (EGOS) Colloquium, and the Academy of Management Annual Meeting (AoM).
I have been also working on publishing these papers in highly-ranked academic journals in collaboration with my supervisors Professor Andrew James and Dr. Barbara Ribeiro.
What was the most interesting thing that you discovered?
The scientists, who were chemists and biologists, create new professional identities following digitisation.
Based on the empirical research, new conceptual models were built to shed light on how scientists who conducted their work manually (i.e. 'analogue' scientists) went on to construct two different social identities following the implementation of digital tools in their organisation.
Through acquiring membership in new social groups and performing new roles, analogue scientists transitioned into digital or hybrid scientists. These two social identities were manifested through distinct role identities constructed through the interplay between specific identity work tactics performed by scientists and identity regulation strategies performed by managers and coworkers.
I identified key factors that affect scientists' adoption and resistance to advanced digital tools in their work and also shape their professional identity reconstruction when dealing with digitalisation,  such as perceived enjoyment and technology task conformity.
Digital or hybrid scientist? If someone wanted to learn more about professional identity what would you recommend they read?
I would suggest reading the following papers:
Lamb, R., & Davidson, E. (2005). Information and Communication Technology Challenges to Scientific Professional Identity. The Information Society, 21(1), 1-24.
Sparkes, A., Aubrey, W., Byrne, E., Clare, A., Khan, M. N., Liakata, M., . . . King, R. D. (2010).Towards Robot Scientists for Autonomous Scientific Discovery. Automated
Experimentation, 2(1), 1-11
Ribeiro, B., Meckin, R., Balmer, A., & Shapira, P. (2023). The digitalisation paradox of everyday scientific labour: How mundane knowledge work is amplified and diversified in the biosciences. Research policy, 52(1), 104607
What are you doing now?  
I have secured a job as a digital and cyber security specialist at a large multinational company in the energy sector in London. I have been building on my knowledge of R&D management to build innovative digital platforms and tools that strengthen cyber security measures, reduce cyber threats and risks within the firm and educate workers about safe cyber behaviours in the digital age.
What do you think RADMA offers the research community?
I believe RADMA makes a strong contribution to the research community in many ways.
Firstly, it offers funding to highly talented PhD students to help them pursue their PhD in leading universities.  This conduct cutting-edge research makes a significant contribution to the theory and practice of the R&D and innovation management disciplines.
Secondly, RADMA annually organises a leading and well-known academic conference in the field of business and management, entitled the R&D Management Conference. This conference is highly reputable and is always widely attended by scholars and PhD students from all over the world to present high-quality papers in the field and attend various academic workshops. It also brings the research community members together and offers countless opportunities for networking and knowledge exchange and a space for intellectually stimulating and challenging conversations.
Further, RADMA is one the proprietors of a highly ranked and respected journal called the R&D Management Journal – where high-quality academic papers in the field of R&D, technology and innovation management are published and accessed by the wider scientific community.