Roadmapping has been extensively used for innovative companies over the past few decades to support their innovation initiatives. Although many processes and methods are available to start and enhance roadmapping processes, how to know whether the practices being used are delivering consistent results is not clear.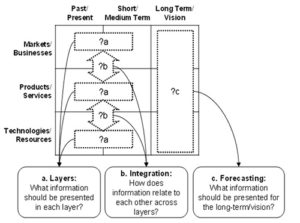 To this end, researchers in Brazil have developed a framework to support a quick and visual assessment of roadmapping performance using its core result – the roadmap.
The framework addresses three common gaps of roadmaps:
Layer content
Layer integration
Forecasting
Based on a visual analysis of the main roadmap sectors according to these gaps, the framework shows potential shortcomings that might affect the roadmapping process, and then recommends methods and tools that could be employed for improvement.
Preliminary results of this project are published in:
Oliveira, M.G. and Fleury, A.L. (2015) A Framework for Improving the Roadmapping Performance. In: Portland International Conference on Management of Engineering and Technology (PICMET). IEEE, Portland, US, pp. 2255–2263. Available at: http://ieeexplore.ieee.org/document/7273103.
Further information:
Prof. Dr. Maicon Gouvêa de Oliveira – Institute of Science and Technology, Federal University of Alfenas, Poços de Caldas, MG, Brazil
Email: [email protected]