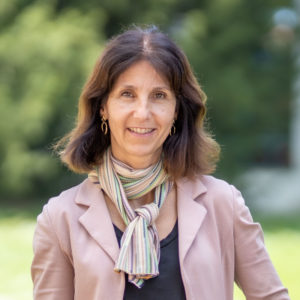 The pandemic has increased capability to manage complex systems, says Raffaella Manzini, LIUC Università Cattaneo. When researching a special issue for R&D Management Raffaella was positively surprised to find that many organisations were already adopting new models for technology innovation.
'Big challenges' such as a pandemic require innovative solutions that must also consider the wider social ecosystem in which they operate. These complex systems are characterised by fuzzy boundaries, non-linear relationships between their constituent parts and dynamic continuous evolution. 
Raffaella is co-chair on the track 'Complexity theories in R&D and innovation management' – we asked her about the theme of her track and why it is particularly timely.
Complexity seems to disrupt most of the models that we currently teach in universities and also those that companies use to manage their R&D and innovation processes.
To give an example complexity requires the ability to deal with what "emerges" from the system and to cross boundaries.
Current models tend to focus on the planning and increasing efficiencies and to focus on a particular level, ie the micro (company), meso (industry) or macro (policy) levels.
I hope that in our track we can make a little step further in discussing together these topics, reflecting on the need as a community to build new theoretical models and/or to modify and enrich those we are currently adopting.
What I have observed in the research we conducted for the special issue "R&D management at a time of crisis: what are we learning from the initial response to the COVID-19 pandemic?" is that the real actors involved in R&D and innovation management (companies, institutions, individuals) are already moving to be able to manage innovation in systems that are recognised as complex. This was kind of a surprise.
This spontaneous movement was strongly stimulated by the emergency situation.
What we need now, in my opinion, is to help these actors to maintain this intuitive attitude and to continue this way of doing things. We could support them with the necessary theory and the related managerial models, and also by promoting discussion among companies and practitioners.
If someone was new to this topic what would you suggest they read to get an overview of the issues?
Cilliers, P. (2016) Knowledge, complexity and understanding. In Critical Complexity. De Gruyter, pp. 77–84.
Dougherty, D. (2017) Taking advantage of emergence for complex innovation eco-systems. Journal of Open Innovation: Technology, Market, and Complexity, 3, 3, 14.
Poutanen, P., Soliman, W., and Ståhle, P. (2016) The complexity of innovation: an assessment and review of the complexity perspective. European Journal of Innovation Management, 19, 2, 189–2013.
Battistella, C., De Toni, A.F., and Pessot, E. (2018) Framing open innovation in start-ups' incubators: a complexity theory perspective. Journal of Open Innovation: Technology, Market, and Complexity, 4, 3, 33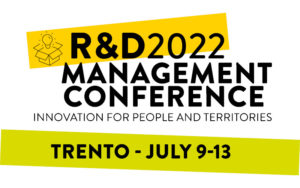 R&D Management Conference 2022 – University of Trento 11-13 July 2022
Track 2.16 Complexity theories in R&D and innovation management
Track Chairs: Raffaella Manzini, Linda Ponta, Gloria Puliga, Valentina Lazzarotti (LIUC Università Cattaneo, Castellanza); Ilaria Giannoccaro (Politecnico di Bari); Cristina Ponsiglione (Università degil studi di Napoli Federico II).