It has a number of strands:
– Supporting strategy and innovation in technology-intensive firms
– Enabling cross-functional dialogue, consensus building and communication
– Driving forward change through a planning-oriented format
– Adapting to company context and purpose through a flexible systems-based framework
The technology roadmapping approach was originally developed by Motorola more than 35 years ago to improve synchronisation of technology and product development. Since then the approach has been adopted (and adapted) by many firms in many industries for supporting innovation and strategy, and is also widely applied the sector level, sponsored by trade associations, government departments and other agencies.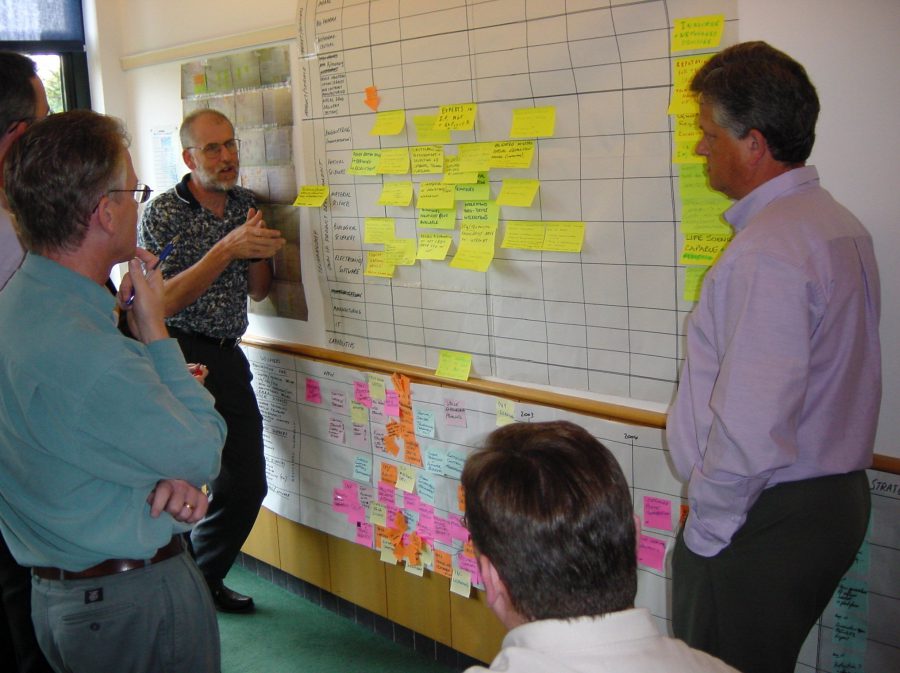 Visualising strategy
Roadmaps are structured visual depiction of strategy, as illustrated schematically in Fig. 1. This is the most common form of roadmap, with the system-oriented time-based architecture providing a very flexible strategic 'lens' that can support strategic dialogue, communication and decision making at all levels, from early stage exploratory applications through to implementation.
The roadmap framework is holistic and flexible, and provides a useful integrating platform for strategy, business processes and toolkits. Fig. 1 – Roadmap framework (source: Phaal & Muller, 2009)
Roadmapping supports strategy, innovation and other business processes, and roadmap structure and content should be aligned with these. The process of roadmapping is often confused with strategy, as the content of a roadmap depicts strategic information. It is more appropriate to consider the process of roadmapping as the use of the structured visual framework as an aid to understanding and communication within the context of the business processes it serves.
The use of visual methods can be very beneficial for supporting cross-functional (and cross-organisational) dialogue, consensus building and communication, enabled by the holistic multi-layered structure of roadmaps, which are typically associated with different stakeholder perspectives.
Workshops
Within workshops, which are a common component of roadmapping processes (see Fig. 2), the structure of the roadmap provides a 'canvas' that can be used to capture, organise and discuss issues of mutual interest and concern.
While the structure of the roadmap framework shown in Fig. 1 provides a systematic approach to strategy development, it is not necessarily the most effective format for all stakeholder groups.
Communication
Although popular with technical and programme management communities, other less complex formats (Fig. 3, for example) are often more effective for communicating key strategic messages, for example to senior management, with more detailed roadmaps supporting deployment of strategy. Whatever the format chosen, roadmaps benefit from care and attention to visual design, to ensure that the depiction and associated narrative are clear and effective.