There are many—and increasingly more—roadmapping applications that fall outside the "traditional" category. With this profusion of non-traditional applications come an array of new or different considerations, opportunities, and challenges. The experience of a U.S.-based federal wholesale electric utility offers insights gained from a non-traditional roadmapping application.
Communicating the technology research agenda
As a government institution with a public service mission that does not itself develop products or services for the marketplace, the Bonneville Power Administration (BPA) nevertheless needs to articulate its technology research agenda to external experts to help the Agency achieve its reliability, safety, and environmental stewardship missions.
The success of processes, techniques, and tools deployed at Motorola, IBM, and SEMATECH—or even federally-funded research institutions such as Sandia National Laboratories—does not necessarily mean they will be successful for non-traditional applications such as at BPA. The experience of the BPA Technology Innovation (TI) Office in creating roadmaps and developing its own Technology Roadmap Process Implementation Manual may be informative for other organizations seeking to implement and sustain the process.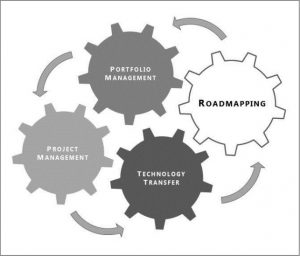 Use of roadmaps
BPA TI communicates technology needs of its Power and Transmission business lines to the research community by way of its roadmaps. External expertise has been critical in development of roadmap content to help bring "outside the box" thinking to pressing Agency needs.
With a few exceptions, external experts from universities, manufacturers, national laboratories, and other such organizations are the ones actually conducting hands-on research, development, and demonstration for the Agency's benefit.
Since 2009, BPA's technology roadmaps for energy efficiency, transmission, demand response, and power generation asset management have benefitted from the input of more than 430 people representing nearly 170 organizations.
Needs cascade from level to level
BPA TI's roadmaps link key opportunities and challenges ("Drivers") facing barriers ("Capability Gaps"). For each of these barriers, there will be one or more associated "Technology Characteristics"—functions of a product, component, algorithm, software, etc.—that could address the barriers. Finally, "Research and Development Program" descriptions link to the Technology Characteristics, ideally specifying key research questions that further hone the focus of external proposals.
Thus, strategic Agency needs cascade down into increasingly more tangible technical requirements at the tactical level. Once these requirements are communicated (by way of an annual funding opportunity announcement), BPA TI uses these roadmaps as one component within its "system of systems" to administer the Agency's R&D portfolio— the other systems being Portfolio Management, Project Management, and Technology Transfer (Figure 1).
Defining the process steps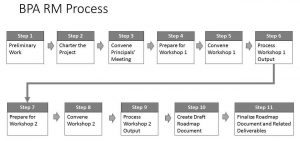 To help do all this work more effectively, in 2015 BPA TI staff developed their Technology Roadmap Process Implementation Manual. It outlines roadmapping process steps (see Figure 2).
This provides logistical checklists, and identifies key roles, responsibilities, and timelines, thereby serving as what the Project Management Institute calls an "Organizational Process Asset."
It offers more value than a standard static manual, however, in that it resides on an internal SharePoint site and contains hyperlinks to templates and sample documents needed to plan for and conduct workshops, process output, and create deliverables.
The Manual standardizes and centralizes institutional knowledge and best practices while facilitating knowledge transfer. It also provides a foundation for continuous improvement and maturation.
Findings from work with the BPA TI Roadmapping Project Manager conducted through 2016 is to be presented soon.
More information: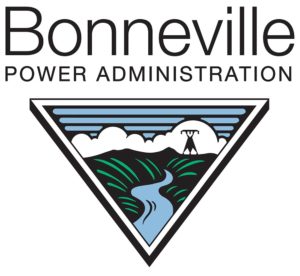 "Technology Roadmap Development Framework: A Case Study within the Energy Sector," James V. Hillegas-Elting, Chih-Jen Yu, Terry Oliver, Tugrul Daim, and Judith Estep, Research and Development Management (RADMA) Conference, July 2016.
Guest post by James V. Hillegas-Elting, Roadmapping Project Manager, Bonneville Power Administration Technology Innovation Office (Portland, Oregon, USA)