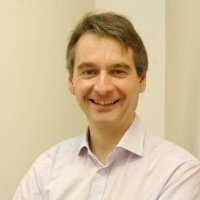 Dr Joe de Sousa is UK/US Product Development Science and Technology Lead at AstraZeneca.
Joe has over 20 years' experience in line, project and scientific leadership positions across Pharmaceutical R&D in AstraZeneca.
In his current role Joe manages an extensive portfolio of science and technology projects that ensure AstraZeneca's R&D capability maintains its world class status for innovation and excellence in delivery of new medicines. Previous roles range across all phases of pharmaceutical R&D from pre-clinical all the way through clinical development, regulatory approval and new product launch.
Joe completed a DPhil at University of Oxford in synthetic organic chemistry under the supervision of Professor Steve Davies after obtaining a Bachelors degree in Chemistry at University of York. He grew up in Manchester somewhat confused by the often disparate culture of his heritage (mother from Bournemouth and father from Lisbon) and the gritty northern surroundings of his childhood. This somewhat unusual mix along with his time in Yorkshire, Oxford and a brief interlude in Essex enable him to feel both an outsider and at home in so many different places.
About Joe de Sousa on the University of Cambridge R&D Management Conference site.